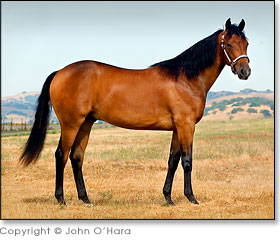 John O'Hara Photography also does excellent custom "ranch photography" on assignment! Learn more:
About Our Ranch Photography Services
When we do ranch photography for you, we visit your ranch or horse stables/training facility to create a wide range of photography that fits your unique needs. Depending on those needs, we may photograph ranch property, horses, people and/or pets.
We provide photography for a wide variety of customer uses, which could include creating compelling photography for promotional purposes, as well. We know that when someone looks at your flyer or advertisement you want to quickly and effectively get your promotional message across, and when doing a promotional shoot we create photography with this goal in mind.
And, we have full capabilities to get those images to your agency or magazine fast.
We treat every assignment as unique, always discuss your particular needs and provide a customized estimate for your job up front.
We recommend planning ahead for your photography project, but we can also usually accommodate "rush jobs" for an additional fee.
About John O'Hara Photography
If you're new to John O'Hara Photography, Mr. O'Hara resides and operates out of Petaluma California, where for twenty five years he has himself been a horse owner. For 30 years Mr. O'Hara was a photojournalist for the San Francisco Chronicle, and he's brought those, and additional, skills to the creation of exceptional equine event photography since 1974.
O'Hara's extensive background in photographing horses and horse events includes providing public relations photography for the Grand National and Junior Grand National, photographing Cutting shows and providing photography for equine events such as Snaffle Bit Futurity (exclusive photographer between 2002 - 2004), Reigning by the Bay, Spectacular and Golden Grand events, among others (see also his catalogs of event photography).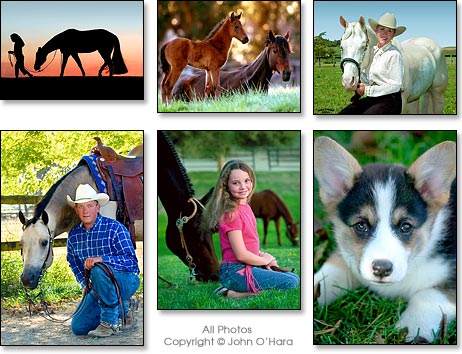 Day Rates (Covers time and actual photographic session)
– Full day: $750
– Minimum: $350 (three hours)
Travel Rates/Expenses
– Auto Milage: $1.00/mile (1st 50 miles no charge)
– Air Travel, lodging, etc.: Charges depend on circumstances (we'll determine before assignment)
– Full Day or More of Travel: 1/2 standard day rate in addition to other travel charges

Photographs, Prints, Electronic Media (e.g. Photo CD's)
– Please see rates shown on our Photos Order Form (Downloadable PDF file. Size: approx. 80K. Requires the free Adobe Acrobat Reader)
Photo alterations (e.g.for photo background changes)
– $60.00 per hour.
Rush Work
– Rush work fees may apply (we'll determine before assignment)
Getting Started
To arrange a shoot or for more information contact John O'Hara Photography today.